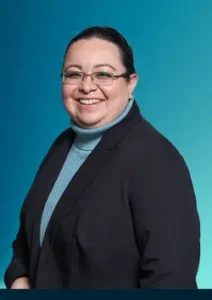 Stephanie Perez
With a decade experience in the legal industry, Stephanie is the Director of Operations and Litigation Manager at Venerable Injury Law. As the frontline manager of administrative operations and primary support for litigation, Stephanie is enthusiastically driven to streamline administrative and legal processes with technology in order to promote transparency, efficiency, security, and effectiveness of said processes within the firm.
Utilizing her background in Business Administration and Information Systems Security, Stephanie has the ability to identify deficiencies within standard business operations and implement solutions to address specific problems. This expertise allows her to run a tight ship in order to better serve the clients at the firm. In addition, her paralegal background allows her to provide litigation support, including tasks such as research, drafting, filing, calendar management, scheduling and of counsel communications, as necessary.
Through the knowledge and experience Stephanie has gained at Venerable Injury Law, having served in roles including litigation support, litigation paralegal, operations assistant, litigation manager and director of operations, she has developed a unique perspective into the personal injury industry, which is often misunderstood due to its complexity and the guarded nature of the parties involved. Accordingly, Stephanie is dedicated to the vision of continuing to evolve Venerable Injury Law as a pioneer in implementing technological solutions that are scalable and accessible with the goal of helping underserved communities.
Education
California State University, Dominguez Hills

Bachelor of Science in Business Administration
Concentration: Information Systems Security

Los Angeles City College

Paralegal Program, ABA Approved.
Completed Coursework: Introduction to Legal Assistant I & II, Legal Research, Legal Writing, Business Law I & II, Tort Law and Claims Investigation, Real Property, Immigration Law for Paralegals, Civil Rights and the Law, Law and the Media, Accounting I & II